Matterport is the leading global spatial data company focused on digitizing, indexing and understanding the built world. The Matterport Enterprise Cloud allows users to easily capture, create, and display 3D models of real-world spaces. These models are delivered in a navigable, photo-realistic format that uses patented computer-vision and artificial-intelligence technologies. 

51WORLD is a world leading digital twin technology provider founded in early 2015. We are committed to creating a real, complete, and enduring Digital Twin World which integrates physical simulation, industrial simulation, artificial intelligence, cloud computing and a series of cutting-edge technologies to establish a digital twin application ecosystem. 51WORLD have assisted more than 1000 government agents and enterprises to carry out the transition to new era digitalization and promote digital twin to become a new basic infrastructure.

HYPERVSN is the award-winning British technology company, responsible for creating the world's first Integrated 3D Holographic Display System. Hypervsn is widely regarded globally as the leader in 3D holographic technologies. It is a complete, integrated system that allows the user to create, display and manage 3D holographic visuals perceived as holograms floating in the air. It uniquely combines the HYPERVSN Device with the scalability of the Pro Management Software and the wow factor of 3D holographic content.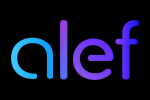 Alef is a digital twin management platform developed by ShaikhTech.The philosophy behind Alef is to provide 'one source of truth', along with enhanced visibility and transparency across your real estate portfolio globally. Use Alef to custom brand your VR tours, time travel your property as it progresses using side by side compare, present properties or collaborate remotely via video calling. Alef also allows you to convert your 3D VR tour into a live digital twin using IOT integration and a virtual showroom using v-commerce capability. With Alef, the possibilities are limitless!